December 27, 2012
Europe – Recovery Seen In 2H 2013
Looking forward to 2013, while much of the core underlying issues that plagued Europe in the past now lurk mostly unresolved in the background, we believe that much progress has been made in 2012, and much more is to come in 2013.
by iFAST Research Team
The past two years have seen the Eurozone and its capital markets riddled with volatility, a lack of political cohesiveness and confidence that was shot to pieces before gradually getting pieced back together. 2012 saw markets worry tremendously over whether Spain or Italy would succumb to what markets thought were unsustainable yields (~7%) as well as the potential Greek Exit over the summer that captured much headline news. The European Central Bank as well as various leading political figures in the continent were kept busy throughout the year, with the former launching yet another Long Term Refinancing Operation (LTRO), cutting its benchmark interest rate by 25bps to a historic low and introducing the Outright Monetary Transactions (OMT) program that has seemed to successfully quell the rise in yields across the periphery. With much tail risk removed from the table, European equities have managed to rise from crisis-like levels to post a return of 12.0% on a year-to-date basis as of 14 December 2012 in Ringgit terms.
Looking forward to 2013, while much of the core underlying issues that plagued Europe in the past now lurk mostly unresolved in the background, we believe that much progress has been made in 2012, and much more is to come in 2013. While financial tensions and uncertainty will undoubtedly revisit on occasion, we believe that the Eurozone's economy is setting the stage for an exit from its sovereign debt crisis, with several leading indicators showing signs of stabilisation and improvement following spending the bulk of 2011 and 2012 in recessionary environment. While we expect a gradual turnaround in 2H 2013 for the Eurozone with recession not being an imminent risk for 2013, the high degree of uncertainty stemming from political risks as well as the likelihood of returning financial tension sees sufficient risks to the downside that currently see us refrain from upgrading the market.
In this outlook piece, we return to the continent, which has given the world the Industrial and French Revolutions amongst many other things, highlighting both the positives and challenges it faces as it looks to enter not a second Renaissance, but a recovery phase.
GREEN SHOOTS
The Eurozone has endured a terrifying two years in the financial markets as it battled a sovereign debt crisis, with GDP growth and asset values paying the price. However, recent economic data and leading indicators have signalled an improvement in data for the continent which could spell better times in the near future. Across the continent, many of the leading indicators as well as sentiment surveys and important purchasing managers indices (PMIs) have begun to show signs of stabilisation and improvement, having spent the majority of 2011 and almost all of 2012 in not only negative territory, but at levels indicative of a recession (Chart 1).
CHART 1: PMI SIGNALLING A RECOVERY?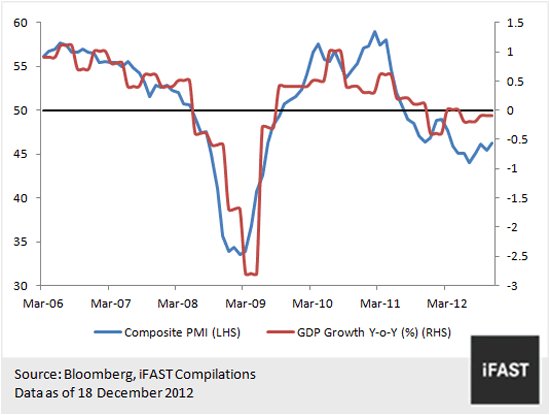 While the past 2 years have been tough, recent leading surveys and indicators point to a period of recovery and dare we say it, perhaps a year of economic growth in the Eurozone. As seen in Chart 2 below, sentiment has started to take a turn for the better in recent months as key policy makers seem to have a handle on the debt crisis, allowing confidence (a key ingredient for a recovery in the Eurozone) to rebound from levels not seen since the Great Financial Crisis.
CHART 2: FOUNDED OPTIMISM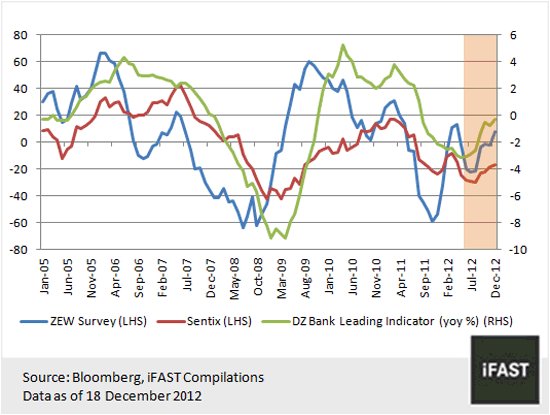 While sentiment as a whole has been improving since bottoming September 2011, only in recent months has the ZEW Survey managed to break into positive territory. The bottoming of sentiment has been reflected in business activity as shown in the PMIs in Chart 2 and confidence where readings coming out of surveys done on manufacturing companies are heartening (Chart 3 & 4), particularly as they have been amongst the sectors hardest hit by the 2nd recession in 4 years. Given the decelerating contraction in business activity and the up-tick in general sentiment and the macroeconomic environment, there is sound reason to hope that businesses will slowly but surely begin to see a pick-up in activity soon enough.
CHART 3: CONFIDENCE SLOWLY RETURNS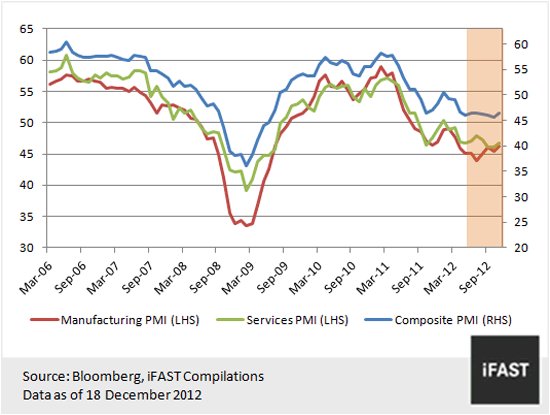 CHART 4: CORPORATE CONFIDENCE SHOWS SIGN OF LIFE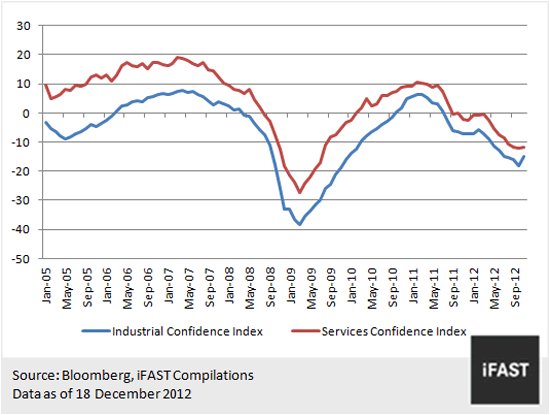 Exports have been a critical component of GDP for the Eurozone, as a weak backyard detracted from domestic demand which has fallen in every single quarter since 3Q 2011, leaving domestic demand 2.7% weaker, or close to EUR 49 billion lower in 3Q 2012 than where it was back in 2Q 2011. The weakening of the EUR has contributed to the rise in exports out of the continent as price competitiveness boosted the attractiveness of European exports despite a slowdown in China and uncertainty over the pace of the US recovery throughout 2H 2012, both of which detracted from European export strength.
Moving forward to 2013, we expect the gradual improvement of the global economy to resurrect global trade flows, with Europe being one of the main beneficiaries from the rebound in global trade in part due to it being the largest economic bloc in the world.
Government spending, which accounts for close to 21% of Eurozone GDP, witnessed the introduction of aggressive budget cuts and austerity measures, as governments sought to keep their finances in order in an attempt to reassure markets that they were in control of their spending, and were seeking to rein it in. The resulting impact saw the government expenditure component of GDP in 2012 shrink and contribute to rising unemployment rates in Europe. While austerity is a necessary evil to balance unbalanced balance sheets in the short term, the only true way out of a recession and debt crisis is to grow one's way out of it lest the nation find itself locked in an austerity trap, where worsening economic growth leads to misses on deficit targets, which in turn leads to more austerity, and the cycle repeats.
In 2013, we believe that any further austerity measures or budget cuts will be more moderated, with cost cuttings being complimented by growth targeting measures, something that was sorely lacking in 2012 when policy makers were focused on 'austerity at all costs'. Nonetheless, it is likely that government spending will hit a bottom in 2013 thanks to the previous harsh austerity measures undertaken, although there could be room for improvement in early 2014.
The sovereign debt crisis has indeed ultimately impacted the real economy via the banking sector as we anticipated previously last year, this in spite of the actions by the ECB over the course of the year having done much to prevent a total collapse of the banking system in the Eurozone. While lending continues to look weak through 2013, the wide ranging measures undertaken by the ECB such as the Longer Term Refinancing Operations (LTROs) as well as the grand Outright Monetary Transactions should help remove some of the headwinds with regards to lending; entice banks to increase their lending (as their funding needs seem set to be helped met by the ECB) and encouraging demand for loans by keeping interest rates low and reducing the cost of credit for banks which should be passed on to those taking up the loan which should aid in reducing the pace and intensity of private sector deleveraging.
As for looking into our crystal ball with regards to possible policy actions, we would not dare wager against the possibility that the ECB has no more tricks up its sleeve particularly in the form of non-conventional monetary policy given Draghi's history of pulling more than just rabbits out of his magician's hat at crucial moments. Should the environment start to deteriorate back to the dark days of April – June 2012 or throughout the best parts of 2011, we are of the opinion that the ECB will once again step up to the plate, particularly if the issue originates from the debt crisis. Whereas politicians were once to blame for their inaction towards mounting financial pressures, much progress has been made in terms of the manner and speed with which policy makers now tackle Eurozone issues as seen in the relatively quick (by their standards)creation of the Single Supervisory Mechanism for banks.
DOWNSIDE RISKS REMAIN IN THE BACKGROUND
While there is much to be optimistic about with regards to the Eurozone, plenty of old downside risks remain while new risks have emerged.
Consumer spending, which is traditionally a more resilient component of the economy, has been falling as a result of a fall in employment and thus disposable income which when combined with fiscal consolidation measures that has seen governments unable to pick up the slack, has caused the more resilient component to be impacted. As seen in Charts 5 and 6 below, the fall in consumer confidence comes on the back of a rising unemployment rate, as consumers remain uncertain over when their next pay-cheque might come or if they will be handed a pink slip. The fall in consumer confidence as well as a rising unemployment rate has seen retail sales contract on a year-on-year basis for all but 5 months from 2011 to October 2012.
CHART 5 – 6: CONFIDENCE, UNEMPLOYMENT AND RETAIL SALES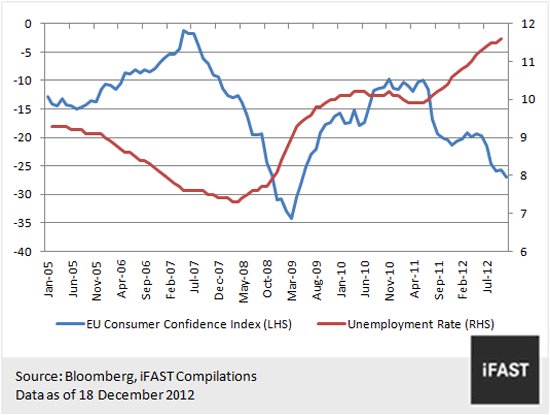 While private consumption is expected to stabilise in 2013, the potential for a further rise in the unemployment rate as well as newly introduced additional austerity measures have the ability to send domestic demand further lower, leaving us wary over the possibility of a period of extended softness.
Business confidence, while looking like it is turning the corner, is still jittery and susceptible to uncertainty emanating from the debt crisis. While we expect corporate investment to fall in the near term, it is expected to strengthen on the back of a pick-up in global trade, a gradual recovery in domestic demand in the Eurozone and low levels of interest rates. However, should dented business confidence fail to recover, this combined with the current slack in excess capacity (Chart 7)in the economy will put paid to hopes of a turnaround in business spending, which is already undergoing balance sheet restructuring, in the short term.
CHART 7: CAPACITY UTILISATION IS SLACK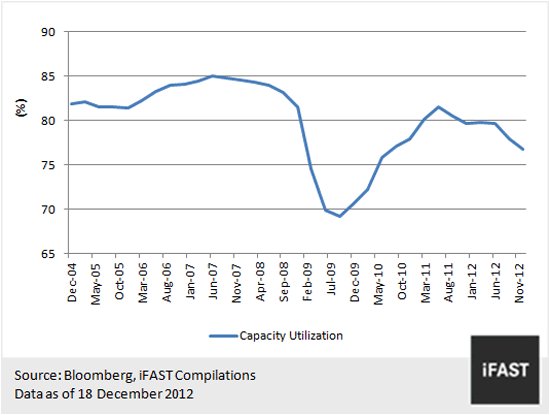 Policy and Political risks have played a dominant role in the ebb and flow of "risk on , risk off" in the European sovereign debt crisis with markets lurching from left to right based on comments by various leading figures or "news leaks" and rumours. For a recent example, the announcement by Mario Monti (current Italian Prime Minister) that he would step down from power upon approval of the Italian budget coupled with news that the walking disaster that is Silvio Berlusconi is likely to launch a bid to return as the next Premier upon Monti's departure saw the Italian equity markets drop and their bond yields rise. Domestic political events on the horizon are likely to continue to impact markets in a similar manner to what we saw in 2012, with elections in Italy and Germany to come in 2013, investors should be mindful that politics will continue to play a major role in how the sovereign debt crisis will unfold, particularly after the German elections. Above and beyond the direct implications of political events, the fierce anti-austerity protests that have taken place across the periphery have put politicians and policy makers in between a rock and a hard place as they will have to balance the need for any further austerity measures combined with just how much social stress and pressure their respective countries can take.
Other forms of policy and political risks include the missteps in action or lack thereof by policy makers with how they deal with the debt crisis, as seen before with how the inaction by policy makers and leading political figures allowed the debt crisis to escalate to its current-day magnitude.
VALUATIONS & ATTRACTIVENESS
From mid-2011 through 2012, we adopted a conservative outlook on Europe due to our forecast of a mild recession on the continent as well as its inherent political and structural issues, downgrading our in-house earnings outlook for the continent on the back of expected weakness even as consensus had yet to tread cautiously and react to the murmurs on the continent. Given that a mild recession is now (sadly) in effect for the Eurozone with consensus GDP estimates closely matching ours and their estimated earnings for the continent are at a level which are close enough to ours and are comfortable at, coupled with the fact that much tail risk has been removed by the actions of policy makers and several leading political figures, we are no longer uncomfortable with consensus's figures and are reverting to consensus estimates for both earnings and GDP growth. Consensus is now currently expecting GDP growth of 0.1% while earnings growth is expected to be 11% in 2013, a strong comeback from expected contractions in GDP and earnings of -0.4% and -5% respectively for 2012.
In 2014, GDP and earnings growth are estimated to be a healthier 1.2% and 12%, representing a sizeable improvement from next year as conditions stabilise and economic growth is rediscovered. The above figures translate to a potential upside of 8.5% by end 2013 and 21.3% by 2014 (excluding a dividend yield of 3.95% in 2013 and 4.3% in 2014), figures which when combined with several positive fundamental factors as mentioned above, would see us seriously consider upgrading Europe by 0.5 stars from its current 3.0 – Attractive star rating if not for the sizeable downside risks that still lurk in the background, which ultimately prevent us from upgrading the continent for the time being.
Posted by: www.in-tune.biz
In Tune specialises in finance and accounting outsourcing, human resource (HR) outsourcing to SME business owners in Malaysia; that traditionally cannot afford professional services which they now can at a fraction of the cost less the headache; so that they have more time to focus on the business operations that matters to them.
Why hire an executive when you can now get at least one qualified professional with an executive at less than an executive pay?